Centrifugal dryers for drying polymer pellets
The various dryer models can be combined with MAAG's underwater pelletizing systems and strand pelletizing systems.
The CENTRO and CYCLO® centrifugal dryers can be efficiently combined as accessories with the underwater strand pelletizing systems from Automatik and Reduction Engineering Scheer as well as with MAAG's underwater pelletizing systems for drying cylindrical and spherical pellets.
The pellet/water mixture emerging from the cutting chamber of the underwater pelletizer is fed through a pellet/water line to the inlet opening of the centrifugal dryer, upstream of which is an agglomerate separator. In dryers with a low water throughput, the process water is separated directly in the rotor area of the dryer. Other drying systems are equipped with an upstream dewatering system.
The fast rotation of the rotor in the centrifugal dryer and the arrangement of the lifters in the rotor area cause the pellets to be transported upward in a spiral, where they collide with the lifters and screens. The water is separated by the screens, and the pellets are continuously conveyed to the upper dryer section. From there they are discharged via the pellet discharge. The extent to which the drying process reduces the residual moisture depends on the respective polymer and the process control. The essential drying is achieved in the upper two-thirds of the screen surface and in the pellet outlet of the centrifugal dryer. The residual moisture of the polymer pellets also depends on the size, shape, surface, and other properties of the pellets.
Impact dryer for drying raw material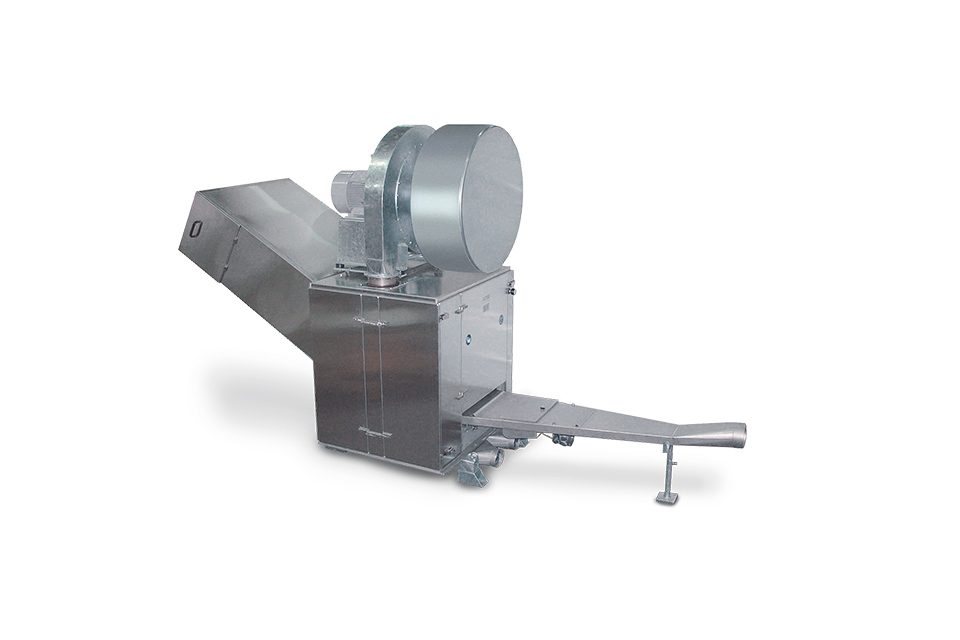 Belt dryer for gentle drying
The DURO belt dryer is the ideal partner for MAAG's underwater pelletizing systems in the production of abrasive or brittle pellets such as high glass fiber-filled or mineral-filled compounds. The pellets are dried very gently because there is no relative movement between the pellets and the dryer components.